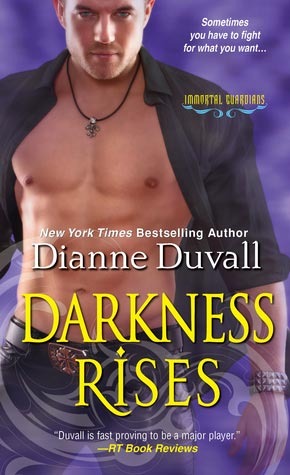 Krysta is used to getting the drop on vampires. Her "special abilities" aren't much, but the plan is simple--she plays helpless pretty young thing to lure them in. Then her shoto swords come out and it's bye-bye, bloodsucker. Until one night she finds herself with an unexpected ally. He's a vampire, all right, but different. Mysterious. Handsome. And more interested in savKrysta is used to getting the drop on vampires. Her "special abilities" aren't much, but the plan is simple--she plays helpless pretty young thing to lure them in. Then her shoto swords come out and it's bye-bye, bloodsucker. Until one night she finds herself with an unexpected ally. He's a vampire, all right, but different. Mysterious. Handsome. And more interested in saving her skin than draining it.Etienne has been an Immortal Guardian for two hundred years--long enough to know that Krysta is special. He can't stop thinking about her long legs, even more than her short swords. Then he discovers the vamps she's exterminating have friends in high places, and the Guardians are in danger too. He'll have to accept Krysta's help to save them. The stakes for a mortal are high. But the cost to his heart might be higher. . ....
| | | |
| --- | --- | --- |
| Title | : | Darkness Rises |
| Author | : | |
| Rating | : | |
| ISBN | : | 9781420129786 |
| Format Type | : | Mass Market Paperback |
| Number of Pages | : | 403 Pages |
| Status | : | Available For Download |
| Last checked | : | 21 Minutes ago! |
---
Darkness Rises Reviews
I found Darkness Rises a phenomenal read! All of Dianne Duvall's Immortal Guardians series have become a favorite of mine but Darkness Rises has even rose above every one of my expectations. If you haven't check out her work...WHAT ARE YOU WAITING FOR, IT IS INCREDIBLE!Krysta and her brother Sean have been fighting vampires for the past six years. Hunting one night Krysta accidentally attracts an Immortal Guardian as well as a large group of vampires. Just when the tides of battle with the vampires would of turned against her, Etienne steps in.Etienne is shocked by the voracious fighting skills of the human he was following. Drawn to her like a moth to flame, he follows her home and discovers that her brother is a gifted human...sparking hope that Krysta shares that trait.The stakes are too high to allow humans to walk around with knowledge of the Immortals, but Etienne can't seem to keep away from her. When a familiar enemy resurfaces, Krysta comes to Etinene's rescue bringing her to the attention of the Immortals and their Guardians.O.M.G. This book blew me away. In a non-stop read-a-thon, I finished this book into the wee-hours of the morning. I truly couldn't put it down. Duvall pulls out all the stops in this incredibly fascinating world she has created. Not only did she give us sex scene's that will make your temperature rise but she also provided insight into secondary characters. Characters that you can't wait to read their stories just as much as Krysta's and Etienne's. Krysta is a strong female characters who really doesn't need a hero but thrills in the excitement of finding someone with similar goals and superior abilities.Breath taking action, hot and steamy romance, awesome characters and a brilliantly devised plot!!! Duvall definitely ROCKED Darkness Rises.I received this ARC copy of Darkness Rises from Kensington Books in exchange for a honest review. This book is set for publication October 1, 2013.Written by: Dianne DuvallSeries: Immortal GuardiansSequence in Series: 4Mass Market Paperback: 416 pagesPublisher: Kensington - Zebra Publication Date: October 1, 2013ISBN-10: 1420129783ISBN-13: 978-1420129786Rating: 5 Stars FAVORITEGenre: Paranormal RomanceAge Recommendation: AdultDianne Duvall's WebsiteFind this book on: Amazon | Barnes & NobleFor more reviews check out Tome Tender's Book Blog or find us on Facebook.

How the HE!! did this get so many good reviewsI must be weird or wrong in the head. I did not like this book. Hashtag fricking NOPE. B!tch please. Krysta, our fair heroine, girl if I met your selfish a$$, vampire hunter or not, your throat would be black and blue from my punches. You are a terrible, self centered heroine who puts everyone in danger to meet your own needs. Ugh. The hero, Etienne, he had a few moments but few is the keyword. Gah!The steamy stuff. Please. Nothing steamy there. No connection. No nothing. Nothing interesting. Nothing at all. The romance. See above. I was way more interested in Zach's story than anyone else in the damned book. Whatever. I hope I did not pay anything for this book.

Darkness Rises (Immortal Guardians #4) by Dianne Duvall Author: Dianne Duvall Title:  Darkness Rises Series: Immortal Guardians Cover Rating: Book Rating: Buy This Book: Sometimes you have to Fight for what you want....  Krysta is used to getting the drop on vampires. Her "special abilities" aren't much, but the plan is simple--she plays helpless pretty young thing to lure them in. Then her shoto swords come out and it's bye-bye, bloodsucker. Until one night she finds herself with an unexpected ally. He's a vampire, all right, but different. Mysterious. Handsome. And more interested in saving her skin than draining it.Étienne has been an Immortal Guardian for two hundred years--long enough to know that Krysta is special. He can't stop thinking about her long legs, even more than her short swords. Then he discovers the vamps she's exterminating have friends in high places, and the Guardians are in danger too. He'll have to accept Krysta's help to save them. The stakes for a mortal are high. But the cost to his heart might be higher. . .Excerpt Étienne stared down at the house across the street and watched shadows writhe and dance on the closed curtains. The music and drunken laughter that swelled every time the front door opened didn't surprise him. But those curtains did.Hard to imagine a bunch of frat boys out shopping for them. Choosing the right decorative curtain rods. Finding fabric of a pleasing look and texture. Damned if it didn't look like it was floral. He would've thought bent, dusty blinds would be more their style.A faint breeze ruffled his hair.If he concentrated, he could read the thoughts of everyone partying within. Not much there really. Just sex and a determination to get blitzed. And one poor guy who thought he had flunked his biology final. A quick scan of his memories confirmed that he had.Étienne sighed. Things had been slow of late. Dare he say boring?For a while there, vampires had roamed in such large packs that he and his sister, Lisette, had had to hunt together just to ensure they would survive the battles. But now ...The frat house door burst open as a woman stumbled out. Booming bass swelled and pulsed through the night as a tall, broad-shouldered figure stepped into the doorway behind her and held the door open. "Come on. Are you sure I can't talk you into staying?" the man—twenty-one or twenty-two years of age—asked.The woman staggered to the edge of the porch and tripped down the steps. Low, sultry, feminine laughter wafted up to Étienne.Nice. If the woman weren't sloppy drunk he might find her appealing."You know me," she slurred. "Places to see and people to go."Her friend laughed.Odd. It was late May. Nighttime temperatures in North Carolina had been mild, in the sixties perhaps. Yet the woman wore a long, black coat not unlike the one he sported himself.His own concealed a small arsenal of weapons: katanas, daggers, throwing stars, and autoinjectors Dr. Lipton had prepared that bore the only sedative that worked on vampires and immortals.Hers was pretty formfitting. And fit a lovely form. She was slender, perhaps five foot five, with long, black hair that concealed her face as she fought to keep her balance.The college boy grinned. "Hey, maybe I should walk you home."Again she laughed. "Who says I'm going home?"She wasn't a Goth. The style of the coat was wrong and her hair was naturally black. Or perhaps a dark brown. While he could see as clearly as a cat in dim or even no light, he sometimes had difficulty discerning color in those conditions.The woman finally succeeded in planting both boots firmly on the pavement and straightened. Combing a hand through her hair, she drew the tangled locks back and gazed up at the moon.Étienne's breath caught. She was beautiful, with porcelain skin, her features pert perfection.And she seemed to be looking right at him.She even froze for a moment.Impossible. There were no lights up here and he stood in the shadow of a chimney where the moon's beams wouldn't touch him."Hey, Krysta!" someone called.She looked to her left.Three more college boys, who clearly had already been celebrating the end of the spring semester, approached the frat house, trampling grass strewn with the occasional empty beer can."You aren't leaving, are you?" a jovial blond asked.She smiled. "Yep.""But we're just getting here!"She shrugged, swayed a bit, then pointed at them. "Your loss, knuckleheads."All laughed."Couldn't you just stay for one game of beer pong?" the blond asked hopefully. "Or maybe to shoot some pool? I need to win my twenty bucks back.""Already spent it," she called merrily. "See ya!" She waved, nearly losing her balance again. Stumbling to one side, she threw her arms out as though she were on the deck of a rocking ship, listing one way then the other. When she didn't fall, she grinned big and threw her hands up in the air like an Olympic gymnast finishing a routine.The men all clapped, whistled, and cheered.Laughing in delight, she staggered down the sidewalk, turned, and headed up the street."You think we should walk her home?" the blond asked softly.The brunet beside him leered after Krysta. "I'll walk her home. I'll walk her alllllll the way home."The blond shoved him. "Cut the shit. She isn't like that."Étienne decided he liked the blond.The brunet scowled. "Whatever." Loping up the steps, he entered the house.The blond frowned after Krysta, then—urged on by his other buddy—joined the party.Étienne watched Krysta pause under a streetlight, part her coat, and reach into an inner pocket.Beneath, she wore tight, black pants that showed every shapely curve of her long legs and a black T-shirt that hugged small, firm breasts.Étienne had always been a sucker for women with athletic builds.Out came an iPod touch. She conquered her inebriation long enough to tuck earbuds into her ears, but the battery must have run down because she swore and tucked everything back into her pocket.Étienne rose.That pause had cost her.Dark figures slithered from the shadows on either side of the frat house and followed her as she resumed her trek uphill.Étienne leapt nimbly to the next roof, careful not to make any sound that would alert the vampires to his presence.He counted four and monitored their progress as they slunk from shadow to shadow, dogging the woman's wobbly footsteps.Krysta began to sing, utterly oblivious to the creatures who stalked her.Unfamiliar with the song, Étienne assumed it was one of the latest pop hits. His lips twitched as he leapt to the next roof. She was having a hell of a time remembering the lyrics. Or the right notes. Krysta couldn't carry a tune. And he was pretty sure it wasn't the alcohol.She came to a corner and halted. A look of confusion flitted across her pretty features as she squinted up at the street sign.Étienne froze, careful to ensure no light touched him.Had her gaze flitted from the sign up to him?No. She was looking all around like she either didn't know where she was or couldn't remember where she intended to go.The vampires slunk farther into the shadows mere moments before she glanced in their direction."Hmm," she mumbled. "I think ..." She spun in a circle. "Right."She crossed the deserted street, passed Bastien's building, and ... entered a dark alley. Really? Had she no sense of self-preservation?Étienne drew his katanas as the vampires flowed into the alley behind her like a black tide. Their thoughts—a writhing mass of madness, violence, and anticipation—struck him like poisoned arrows.Being telepathic could really suck sometimes.He frowned, only then realizing he hadn't heard any of Krysta's thoughts. As he watched her stumble toward the end of the alley, not yet noticing that her path would soon be blocked by a tall chain-link fence, he focused on her tipsy head and ... heard nothing.Very unusual. He could count on one hand the number of humans he had encountered in his two centuries of existence who could block, intentionally or not, his entrance into their minds.She halted.The vamps spread out across the alley, facing her. Light from the street distended and distorted the shadows at their feet, making it seem almost as though they reached for her ankles.Étienne stepped to the edge of the roof, preparing to drop down and save Krysta's attractive, but flighty ass, then ... She ceased swaying. Her shoulders straightened.Spinning around, she offered the menacing foursome a cool, measuring stare.Étienne frowned.The vampires boasted no weapons. Yet. But their eyes glowed and their lips parted to expose long, glinting fangs.She should be screaming her head off. Instead ..."Finally," she pronounced with a healthy dose of exasperation. "It took you guys long enough. I mean, did you really have to make me walk up that damned hill?"What. The. Hell? Krysta shifted, balancing her weight lightly on the balls of her feet as the vampires exchanged puzzled looks. There were four of them. Four would be a challenge. Okay, more than a challenge. Way more. She had had her ass handed to her more than once in the past couple of years when trying to combat such numbers on her own. But, until they actually closed in, she was often unable to tell just how many had taken the bait and followed her.Sneakers shuffled on dirty asphalt.These seemed to be typical examples of the vampires' ilk. Young. Twenties or thereabouts. Could blend in easily on a college campus if you disregarded the brilliantly glowing eyes and fangs. Hopefully they hadn't been vampires for very long. The older they were, the more insane they were. At least that was how she thought it worked. And the deeper they descended into madness, the harder they were to defeat. Krysta didn't have their speed. Or strength. Or size and weight. But she did have two things they didn't.The first was skill. She had spent years training in tae kwon do, karate, and jiujitsu, and had trained with weapons long enough to kick ass. Most vampires had spent a majority of the time, prior to their transformation, sitting on their asses and either texting, yakking on the phone, surfing the Internet, or playing video games. That didn't lend them much skill with knives and swords, so she didn't really understand why they carried them. They were vampires. They could disarm a human easily and, if they didn't, could survive a bullet wound, so what was the deal with that? As far as Krysta knew, she was the only vampire hunter in existence. She seriously doubted her reputation preceded her.The orange glow around the vampires moved and shifted as the not-very-bright predators tried to figure out why she wasn't fleeing in terror.And that was her second advantage. She could see auras. Until she had begun to hunt vampires, she had never thought much of the ability. It warned her of people's moods, so she could turn and walk the other way if someone was pissed about something and she didn't want to hear it. Big whoop.Then her life had changed dramatically, and she had actually found a use for her talent.Vampires were incredibly fast. Like as fast as The Flash. Their movements became blurry and indistinct when they moved at top speeds. But their auras behaved very differently than those of humans. Vampires' auras moved and shifted before they did, telling her exactly where they intended to go before they even took a step.Krysta eyed the vamps before her, waiting for the telltale shift in auras that would precede their attack."Aren't you afraid of us?" one asked."No. Should I be?"Looks were exchanged."Yeah, ya dumb bitch," another proclaimed. "We're vampires!"So polite. She slid a hand into her coat and grasped the handle of one of the shoto swords she carried, ready to teach him some manners. "Yeah, and?""What, are you a second?"She fought a frown. He wasn't the first vampire who had asked her that. What the hell was a second? A second what?"Fuck this. Let's kick her ass!" a third cried.The aura of the one closest to her shifted. Krysta drew her sword and swung it, the blade sinking into flesh as the vampire blurred and caught up with the orange glow.Krysta drew her other sword.The three remaining vampires gaped as the severed head of their companion hit the ground and rolled several feet away from the body that tumbled after it.The first kill was always the easiest.The vampires' faces contorted with fury. Growls and snarls erupted. Eyes glowed brighter.Crap. Here we go.Orange auras deepened in color and shot forward just before the vampires' forms all blurred.Krysta swung both swords with as much speed and strength as she possessed. Her heart raced. Adrenaline surged through her veins. Her blades sank into her opponents.When warm blood slapped her in the face, she clamped her lips shut. No way did she want any of that getting into her mouth. She didn't know exactly how one became a vampire, but figured it probably had something to do with the blood.One of the vamps landed a blow to her back that sent pain careening through her as she flew forward and hit the ground.Rolling, she came up swinging as the vamps converged on her. The momentum of one came to her aid and made a hit that normally would have just cut him instead sever his arm. Vamps tended to not recover from such severe wounds, bleeding out faster than they could heal. As this one did, stumbling backward and falling to the ground while he fought to staunch the crimson river flowing onto the pavement around him.The vampires divided, attacking from opposite sides.Krysta continued to wield her deadly shotos, creating a barrier as formidable as a rotary fan's blades. Cuts opened on the vampires, who became manic in their fury, slavering like rabid dogs.Fear a constant companion, she delivered a round-house kick to the vamp behind her. Agony shot up her leg. It was like kicking a damned boulder. But at least it had kept him from diving low and biting her leg as his aura had warned her he intended.She landed several more slashes before silver glinted in their hands.Hell.Needlelike pain erupted in her arms, sides, and back as they cut her.Time to take a huge risk.Ignoring the vampire behind her, she focused all of her attention on the one in front of her. The next time his aura shifted, she swung with all of her might.The vampire's eyes widened. Stumbling back, he raised both hands to the throat her sword had laid open. The gray shirt he wore turned red as blood spilled down his chest and saturated it.Spinning around, she raised her weapons. The last vamp, who should have been all over her after the opening she'd given him, stared at her stupidly and stumbled back a step.She frowned.He grunted. And grunted again. Blood spilled from his lips.What the hell?Groaning, he sank to his knees and clumsily tried to reach behind him with both hands.Was this a trick?Swords at the ready, she limped forward and began to edge around him to see what the hell he was reaching for.Krysta stopped and stared. Half a dozen daggers protruded from his back. And, judging by their positions, they had pierced his heart and probably sliced through at least one major artery.A whole new fear invaded her as she backed away, her gaze darting all around her and seeking the source of those weapons.A sound drew her attention to the entrance of the alley.Ice skittered through her.Seven vampires. Eyes glowing various shades of blue, green, silver, and amber.I'm dead. The panicked thought barreled through her brain at light speed. There's no way I'll survive this."She's a second!" one snarled.What the hell is a second?Their glowing orange auras zipped toward her.Kysta swung and thrust as she backed away toward the chain-link fence. But, even as she scored hits, the vampires flew past to circle around and cut her off.A thud sounded behind her. The vamps in front of her paused to look over her shoulder. Something bumped her back.Krysta spun around and swung.A large hand clamped around her wrist, stopping her with infuriating ease.Her gaze rose, taking in the tall figure garbed all in black who towered over her. His luminescent amber eyes, as bright as the moon, met hers. His lips parted, exposing deadly fangs.But his aura ...It wasn't orange like the other vampires'. It was bright white and purple, the two colors swirling together without ever mixing. She had never seen anything like it.Or had she?Hadn't she seen it up on the roof earlier and dismissed it as a trick of the eye?"You," she breathed, and waited for him to strike a death blow.* * *Étienne frowned.She knew him?He released her arm, ready to catch it again if she should try to skewer him. Darkness Rises is Dianne's best work yet! The Immortal Guardians rock down the house in this action packed book. A phenomenal power couple heat up the pages, Krysta and Étienne are fantastic. I really loved getting to touch bases again with old friends from her previous novels. We as readers don't get to see that very often so its nice to see previous characters continuing on well after their individual novels. I loved getting to see a strong female just as strong as her male. There isn't any simpering female hiding in the corners in this novel no way. Obviously prepping for a major burst of plot thickening this novel brings it all! I can never get enough of Dianne's books, shes a phenomenal writer! Until next time book lovers...Krissys Bookshelf Reviews received a digital copy in exchange for an honest review from Netgalley. All thoughts, comments and ratings are my own.If any of Krissy's Bookshelf Reviews has been helpful please stop by to like my post or leave a comment to let me know what you think. I love hearing from you!Thank you so much for stopping by!Krissys Bookshelf Reviews    Krissys Bookshelf Reviews has a QR code for your phone!

More Immortal Guardians! In fact, more hot, French, Immortal Guardians. What's not to love?This time focusing on Etienne, Dianne Duvall has given us another fantastically fast paced, action-packed and humorous story featuring, once again, a gorgeously sexy Immortal finding himself a strong woman, and a straight-talking couple who are open about their feelings, follow their hearts and have a hot, drama-free, functional relationship. Krysta is a fighter. As a human, she has been fighting vampires by herself ever since her first horrific encounter with them six years previously. When Etienne happens across her fighting one night, he is instantly smitten, and when he eventually introduces himself, she is drawn into the Immortal Guardian world, and into the awesome that is Etienne himself. They book continues on pretty close from the last one, with mercenaries making a reappearance and the vampire recruitment continuing. Again, the stories of previous couples are carried on, and I LOVE that we continue to get their POVs – even when the scenes don't have a major impact on what is happening in the book at the time. It all contributes and builds a fantastically layered story. And with the cast continuing to grow, 'family' dinners around David's table are becoming more and more hilarious as all of the personalities mix into an epic blend of teasing, bantering, scarily personal sharing and violence as, again, the romance develops right in front of the rest of the crew. "Her gift gives her an edge"— he held up a hand to stay him when Ethan opened his mouth again—"which I will not disclose. If Krysta wants you to know, she'll tell you herself." Ethan stared at Krysta. A teasing gleam entered his eyes, making Étienne narrow his own as his hackles rose. Offering Krysta a flirtatious grin, Ethan said, "I'll show you mine if you'll show me yours." In a heartbeat, Étienne drew a dagger and threw it. The hilt struck Ethan right in the center of his forehead, snapping his head back. "Ow! Shhhhit! What the hell, man?" Krysta gaped up at Étienne, who squirmed as everyone at the table stared at him. He cleared his throat, but didn't know what to say. He hadn't really meant to do that. He had just reacted. "Oh yeah," Sheldon said. "He has fallen and he has fallen hard." Snickers and head shakes all around. "Merde"And it's just as well everybody is open with how they're feeling, because with all of the telepaths in their midst, you really don't have much other choice! The supernatural powers play a big part of this series, and all add to the awesome, and I particularly loved the dynamic in this one with Etienne's telepathic powers proving not only handy in a battle, but also embarrassingly funny and beautifully sweet. "Sometimes I can't read you at all. Other times I only catch a word or two." A word or two. That could be less incriminating, she supposed. Maybe her mind was closed enough that he didn't know she was attracted to him. "Well, no. I knew that," he said. Mouth falling open, she stared at him in dismay. Hell. Did she have no secrets from him?"You have many secrets from me." "Stop reading my thoughts!" "I'm sorry. It's just . . . you're broadcasting them rather loudly at the moment and . . . There is no reason to feel embarrassed, Krysta." "Easy for you to say! You weren't caught mentally checking out my package!" A startled laugh escaped him before he hastily quelled it. "You're attracted to me. I know that. But I'm attracted to you, too. I have been ever since the first night I saw you."Krysta, and her brother Sean, are fantastic additions to the cast. She is intelligent, quick witted, strong and confident, and is a fantastic match for her badass, but still old-fashioned and gentlemanly, Immortal warrior. The openness between them is refreshing, and there's a great mix of cute and swoony and hot and steamy. Several minutes passed. Krysta looked at her watch. "We still have a few hours of hunting left and nothing much is happening. You want to make out a little?" He laughed in surprised delight. "You're a saucy wench, aren't you?" "Hey, when I want something, I go for it." His body hardened. "And you want me?" "Yes." She studied him intently. "Your eyes are glowing." "I want you, too."I just have to say – I listened to this audiobook, and Kirsten Potter does a sensational job at narrating! She has narrated all of the audiobooks in this series, and does a fabulous job with accents, which is taken to a whole new level in this one, nailing Etienne's French brogue, and sending me into a total swoon!I haven't been able to stop reading this series since I discovered it, and now that I'm all out of books to read, I'm gutted! The next isn't out until September! Seriously? Waaaaaah! I am so excited to continue on with this series, and can't wait to see who is going to feature in the next book… *whispers in author's ear* Lisette and Zach please!!!Loved it – 4 stars.

I really need to catch up on my reviews for this series. I will say that this one was my favorite of the series and the plot continues to build which is why I keep reading! :D

I have yet to meet an installment in this series that I didn't like. At the risk of gushing a little, I have got to say that the Immortal Guardians has quickly become one of my favorite paranormal romance series. There are many reasons why, but the top three are easy: the characters are engaging and well-drawn; the romances are easy to root for; and the worldbuilding is interesting without being overly complex. There's also great pacing, fun sexytimes, and plenty of action. Really, what's not to love?This is Etienne's story. I wasn't super-excited about him the way I was about Sebastian, since he's not particularly angsty, nor did Dianne Duvall lay the groundwork for his romance. But then I got to know him. He is sexy and French and best of all, he respects the strength of his heroine. In so many PNRs, the hero practically smothers his woman for her own good. And if she doesn't like it, she gets a spanking and the guy gets his way. (I wish I were joking.) Etienne is different and I love him for it.Krysta has no idea that Immortal Guardians exist, but she knows all too well about vampires. She has been hunting them for the past six years, ever since they brutally attacked someone she loved. Thankfully, she has a brother with healing gifts who can patch her up every night when she comes home with cuts, bruises, and broken bones. I can't tell you who is more surprised when Krysta and Etienne cross paths, her, for running across a "good vampire" –or him, meeting a human who risks herself nightly against the vamps and lives to fight another day.The two end up working together, and inevitably stop fighting the attraction to one another. What I love is that Etienne recognizes how important Krysta's mission is to her. Even though her hunting puts her at risk –even though it puts him at risk– he doesn't try to take it away from her. He stands with her and is only more attracted to her for her strength. At the same time, I love that Krysta is able to ultimately see her own limitations, instead of clinging to illusions. She ultimately makes the right decisions for the right reasons.In the meantime, Duvall is laying the groundwork for a Lisette and Zach pairing. I am so excited about this one. The secondary characters in this series excite me in every book. Not only do I want more of this couple, I want more Seth, more David, and I can't wait for the big Ami delivery!This one doesn't have quite as much fire as the previous romances, with a definite lack of internal conflict. But I like that the different romances in the series all have a different vibe. It's not my favorite in the series, but I still liked it quite a bit.You could still enjoy these stories as standalones, but the series is so much better when read in order.Rating: B

Wonderful again..First read October 1, 2013, and still loving the series. I just wish it hadn't stopped at book 6. There are so many other characters that deserve their own books, especially my favorites Seth and David.Although I did like Etienne and Krysta's story, even though it was really hard to believe she had been hunting and killing vampires for six years and she was mortal. And at the end you did find out why there was no chance she would be killed, even though she (and WE) didn't know it. There were still a lot of battles with vamps and the mercenaries are back again. So, lots of killing and planning to kill. And then there was Seth attacking Zach, accusing him of betrayal. That was so cool: Seth grabbing Zach so fast it was amazing and teleporting him to a "frozen tundra," and breaking some of Zach's ribs and some bones in his wings. That was crazy and exciting. I do love this series. And I loved the last thing Evie said to Marty on the very last page of the book. Too funny.There was explicit sex in this book and the F-bomb was used 32 times.As to the narration: Kirsten Potter was amazing, with the voices and all the accents.

I loved the chemistry between Etienne and Krysta and really found myself rooting for them. We also get to read about past couples as they contribute to the overall story without detracting from the main characters or slowing down the action. And can I just say that I laugh during any scene where Sheldon opens his mouth! He's one funny dude! I whipped through these books in record time and now I'm stuck waiting on the next one in the series. I have so many questions and want to know more about Zach and his fascination with Lisette.What an enjoyable and intriguing read. So come on, Ms. Duvall, give us Immortal Guardian fans the next one!

Rating: 4.5/5Heat Rating: 3/5Narrator Performance: 4.5/5

Darkness Rises by Dianne Duvall quickly reminded me why I enjoy paranormal romances wrapped in suspense and a little paranormal woo-woo. While this was my first Duvall novel and the fourth in the Immortal Guardians series, this worked wonderfully as a standalone. Fans of Laurie London's Sweetblood series will love the fast-pace, characters and sizzling romance that Duvall delivers. Three word review: suspenseful, romantic and action-packed.Etienne an immortal guardian is watching from the rooftops never campus keeping an eye out for vampires. He is a hunter and keeps the bloodsuckers from ruling the night. As he watches he sees Krysta, obviously impaired exiting a sorority house. He is struck by her beauty and begins to follow her fearing she would make an easy target, and sure enough vampires are soon on her tail. When she enters a dark alley, he moves forward to aid her but gets the shock of his life, when this completely sober beauty begins kicking vampire ass. The tale that unfolds was fast-paced, engaging and totally hot. From the characters to the world Duvall had me under her spell, as I laughed, squirmed and rooted for this duo.All of the characters I encountered throughout Darkness Rises were fleshed out and had unique voices, so that I immediately could tell them apart. Etienne is a two hundred year old Frenchman, who was a gifted one. He was accidentally turned Immortal along with his brother by their sister. As an Immortal, he is young, but already an experienced hunter who can read minds and hear thoughts. I found him to be smexy, funny and just so darn cute. I laughed as much as I sighed over him. Krysta is one kick-ass heroine who see auras. She uses that gift to hunt vampires with her brother, a healer. Krysta is confident, determined and thinks getting to choice her weapons from a collections of bad-ass weapons is the crème de la crème. She is level headed she, and she processes things logically without getting all hysterical. We meet other immortals and gifted ones, and some couples from previous books. I loved how they work as a unit and am anxious to go back and read through the series.In Darkness Rises, the author gave us a strong sense of the world and the supernatural creatures residing there. I loved all the rich details which slid seamlessly from the author's pen giving me a panoramic view. While some might say Etienne and Krysta's romance developed too quickly, but for me, the author made it feel genuine, and I was immediately invested in them both. The sexual tension, banter and smoking hot sex scenes were scrumptious. The plot had the couple facing a new threat, recruiting the enemy and going on the offense. It was intense, action-packed and had my heart racing. The tale is told from several perspectives which help draw me in and connect. There are side threads which develop and will continue into the next book, but for the most part this story was self-contained. After an intense climactic scene towards the end, the author gives us some humor and leaves us on a high note as she sets up for book five.Fans of action-packed, smoking hot paranormal romance wrapped in suspense will love Darkness Rises and the Immortal Guardians series. I snagged a copy of Darkness Dawns book one in the series and will be working my way through them in anticipation of book five, since I cannot wait to see what happens next.Copy received in exchange for unbiased review and originally published @ Caffeinated Book Reviewer

Darkness Rises is the 4th book in Dianne Duvall's Immortal Guardian Series. That being said, let me stop you right there. This book can can be read as a standalone, but I could not recommend it. If you're just now stepping into the world of the Immortal Guardians, do yourself a favor and go back to the first book. You won't regret it. As for Darkness Rises itself, this book touches on so many different things, preps you for the next book in the series and packs one hell of a love story.In this book, we get the story of Etienne, one of the "younger" Immortal Guardians. When some of them are thousands of years old, this guy only being two hundred is nothing. I'm going to try to just focus on Etienne and Krysta for this review, because if I say much about the book itself, it is going to give away A LOT of spoilers, not only for this book, but for the whole series.This book is written in alternative third person point-of-views and it flows extremely well. The writing is on par with the rest of Dianne Duvall's books, meaning, it's excellent. The characters, as usual, are well thought out, planned, have specific personalities and they have depth. I've never found what I call a "filler" character in Ms. Duvall's books. (Unless you count the vamps that get offed, and even then, some you come to know and love, or hate as the case may be. ;) ) The world of the Immortal Guardians, although modern and contemporary for all intents and purposes is fascinating.Etienne, being one of the savvy French Immortal Guardians, can read minds. (You'll know this if you've read the other boos, so I don't consider it much of a spoiler.) What can't do, is get into Krysta's head. At least, not in general unless she's "broadcasting" very loudly. He's stronger and faster, as are most of the Guardians, but they all have their own talents. When Etienne sees Krysta for the first time, he's instantly charmed.Krysta has no clue that beings like Etienne even exist. To her, they are all vampires… and they all need to die. So she goes out hunting them every night, with the help of her brother. Krysta is actually pretty special, what human can really hunt vampires and live to tell the tale? Not many. Watching her do this complete intrigues Etienne, because it's not the norm. There is obviously more to this woman.Eventually, these two do clash. I'm not going to go into how they meet, again, spoilers! However, it's worth it to read it. I was beyond amused by how they did meet and from that point, Etienne goes about trying to protect her, even if she doesn't want the help, claims she doesn't need it and also hey, he's a "vampire", supposedly. ;) She doesn't want him around, but she can't help that she's drawn to him, anymore than he is drawn to her.You might be wondering why it's a four star rating for me instead of a five star. Well, to put it plainly, I wanted more of the story between our main characters then what was going on in the whole series. I felt like you got more of the series then the characters. It's not a horrible thing and still gets a four star from me because I love -all- the characters in these books. The banter between them is one of those things that will make you burst out laughing when you're reading.For those who do read my blog, I'll be reading the next book in the series soon. I've an ARC for the newest book out, so we'll see how that goes. Until then, if you're interested in this book.. read it! I thoroughly enjoyed it and getting to see what else is going on in the IG world.

4.5-5 starsThis was another great addition to this series. Krysta and Etienne are perfect for each other and I love them both. The storyline is interesting and engaging (as usual) and my only issue with this book is it ending and having to wait for the next book to come out to see what happens next! *sigh*Krysta is pretty kickass. She's a Vampire hunter (with the help of her brother as backup) and has been doing it for 6 years. She's never met a sane vampire before but one night when she encounters more Vampires than she can handle on her own, she ends up getting help from what appears to be a good Vampire. She's unwilling to trust him at first and flees as soon as she can. She doesn't realize that she didn't get away.Etienne is French and a 200+ years old Immortal (a Vampire-like paranormal that is sane and hunts Vampires to protect humanity). Etienne is out hunting Vampires one night when he sees a woman (Krysta) being tailed by Vampires. He's surprised when the woman turns around and starts fighting and killing them. He helps when she gets in trouble but isn't sure who she is or her intentions, and for some reason his telepathy doesn't work on Krysta. Fearing she might be an enemy, Etienne follows her home and spies on her to find out who she is.Etienne spends some time figuring out who Krysta and her brother are. He starts shadowing her while she hunts and tries to keep her safe while keeping it from her. When she finally figures it out, they end up in a confrontation and she realizes again that Etienne isn't a regular Vampire. At one point, Krysta and Etienne end up getting attacked by mercenaries and Etienne is drugged and almost captured. Krysta ends up helping him out and, consequently is seen by the mercenaries as a target. When the mercenaries destroy her home, her and her brother decide to stay with Etienne until things are settled. Krysta is able to keep hunting with Etienne and they get to know each other and start to get close but still don't give in completely to their feelings for each other. When they finally do, they both fear it's too soon but don't want to fight their feelings any more. It was actually kind of cool seeing Etienne trying to figure out Krysta and how she feels about him without his telepathy working on her....poor guy. Krysta and Etienne really do end up being pretty perfect for each other though and I was very happy to see them get together. Meanwhile, the action plot heats up as they're able to track the base of the newest threat. Unfortunately, they don't know the true enemy behind unleashing the most recent threat so there are still things unfolding that make me very anxious for the next book in the series. As the action plot is being concluded, Krysta and Etienne get a great HEA (loved the visit to Krysta's parents!). This was a great book from a great series. I love the characters and the storyline is always interesting and makes me want more because it's just so good! I will be waiting for the next book in the series but I have and will be rereading all of the series in the future. I'd recommend this book. 2 thumbs up! :D* note - I listened to the audio version of this book. The narrator did a great job as usual.8/26/15 - This is a reread before #s 5.5 & 6 are released. I love this series and Etienne & Krysta are another great couple. :D

This book left me speechless. I don't like to think of myself as one of those people that says "OMG" at the drop of a hat or anything, but that was really all I was left with after finishing this book. Krysta and Etienne are pretty awesome and cute together, as they challenge each other, push each other's buttons, and continuously get themselves into some kind of trouble, especially with Krysta's brother Sean.I love how everyone rallies around Ami, even without knowing the reasons it's so important to protect her. We get a look at some of our previous couples, as more than just cameo appearances, but an actual visit with them. Bastien and Melanie in particular as Melanie is charged with looking after Ami and Bastien is adorable in his pursuit to protect Ami and be around Melanie. Bastien even goes so far as to involve kittens, I'm just sayin'. We get a lot of different perspectives in this book, even more than the previous book I feel. The best part is that none of them are from the enemy's POV. Roland plays a big secondary role, but it's Lisette, Zach, and Seth that are the major players when it comes to POVs other than Etienne and Krysta. Those passages do nothing but get you excited for what's to come. The book in its entirety is great, but it's really the last quarter of the book that takes your breath away. The ending with Etienne, Krysta, and Sean is adorable, but the climax just prior to it is heartbreaking, especially for Seth. I just wanted to jump into the book and share some hugs. Dianne Duvall's books have always left me satisfied with the overall plot from the individual stories, but wanting the next book for more in the bigger picture and other characters; the last one especially so as the circumstances and drama were jacked up a notch. However, I don't think I've ever been more anxious for the next installment in a series as I am for book 5 of the Immortal Guardians. She's once again bumped up the drama and I am left wondering how the long term conflict will be resolved without bloodshed from our favorite characters. The title of this story matches its content so perfectly. I just don't know how to put into words how awesome it is and how much I am ready for the next one already!Darkness Rises is an awesome chapter in the Immortal Guardians series! It will draw you in so completely that you will be left shaken after the final showdown. With all the characters you love, suspense that doesn't stop, fun and sexy romance, and more, any PNR fan will not be in the least bit disappointed by picking up this book!

2.5 to 3 stars (would be 1 star but I actually liked the non-romance parts so I rated it higher)This was a pretty big disappointment to me. At first, I thought the heroine, Krysta, was sassy and fun, and then once I learned more about her, I ended up being completely disgusted by her. Really. She was the most selfish thing ever. By 50%, I just had to skim all of her parts with the hero, Etienne because I couldn't stand to even read about her. I only tuned in to scenes with others, or sought out important information in case I read the next book.Etienne was blah.... flat. It never seemed like he felt much passion for Kyrsta, but then again, I think the passion didn't come till 65% or so, at which point, I wasn't even interested in reading the scenes with the two of them. It definitely wasn't an overpowering insta-lust or insta-love type of thing. More like a mild, unusual attraction that eventually grew.I enjoyed some of the other scenes and characters in this book, so that helped. But then again, the ending with Seth and Zach (who I am very interested to read about) kind of pissed me off. I am not a fan of the superheroes against each other theme (ya know, like Batman vs. Superman). Sounds like that is the set up for the next book. :-(

Meh. I don't have a lot to say about this book. It was fine. There was nothing wrong. I did not dislike anyone. It was just blah. I have no idea why the author chose to write this story about a character we have barely seen in prior books. I had zero interest in Etienne. He has such minor roles in the prior books that there was nothing intriguing about him. His heroine was a tough chick. I liked her. Kept expecting her to piss me off, but she did not. I just was not feeling the chemistry. They did not spark. There was some progression of the overall story but honestly this seems like a throwaway book within the series.

I can't stop reading Paranormal Romance these past few days.😝 I have some PNR series on my shelf but I barely left a dent on them, haha. Now that I'm on the mood for supernatural beings, I'm binge reading them and I'm trying to catch up with a lot of my favorite series.👊The world of the Immortal Guardians is one of my favorite world. I love how unique each characters are and the plot and world building and the writing is so amazing and engaging. I'm so glad to be back on this world.😍On this book, we have one of the French Immortals, Etienne. Etienne is a telepath, he has two siblings, both of which are Immortal Guardians too. Etienne was introduced in the previous book. He was one of Bastien's hunting partner.Our heroine is Krysta, a human (view spoiler)[, actually a gifted one(hide spoiler)] who spends her nights killing vampires. On one of her hunting trip, that's when she met Etienne.The plot is evolving as the series progresses. I really can't divulge that much since there's a lot of plot lines at the moment. But what I really love is despite this being Etienne and Krysta's story, still, we are given glimpses and thoughts of our favorite couples from the previous books.💜I'm so excited for the next book. Oh Zach.😙But before I jump on the next one, I'll go read Richart's novella.👍🙌

I read Dianne Duvall's First book Darkness Dawns and fell in love! It began an affair of the heart with these powerful Immortals. Men and Women who walked this world and yet were not of it. Individuals who thought that for some reason that when the Vampire bit, it didn't affect them.. Which is true.. what they didn't know was it didn't affect them because they were more than human.. They were "gifted ones" and over time their history may have been lost... what with the witch hunts, exorcisms, inquisitions and other such purges but somehow a select few have managed to survive. And to fight! The immortals are all that is standing between mankind and the evil that is Vampire. You see, once bitten, a human gains power and yes converts to a vampire with all the blessings.. but the true curse is the fact that he/she will go slowly mad over a rather short period of time. They were not created to survive the infection.. while a "gifted one" can. Once a "gifted one" is bitten he becomes an immortal. Sound fascinating? It is, extremely well written, powerful and fun!! Strong characters, powerful evil, treachery shades of grey amongst good vs evil (ok for some) and a leader with mysterious connections and powers.. Feel free to read my reviews and collection of tidbits about this series HEREKrysta Linz has spent the past 6 years hunting Vampires, the only one of her kind, that she knows of. While human, she has extra powers. She can see a Vamp's aura and believe it or not, an aura actually moves before the Vamp does. So while they are stronger, she is smarter, and can predict which way they are going to move. She may be a smart Vampire slayer but she is constantly on the verge of loosing the fight. Fortunately, her brother, another human with special abilities can heal her. Only trouble is, he takes on her injuries so if she isn't careful she may live, but he could die. Krysta has been fighting Vamps as a vendetta for years, having watched one kill her fiance.. and for some reason leave her "tasted" but alive. Then one night, a meeting with a "good" vampire throws her for a loop. Who is this man? And how can she be attracted to him? I mean all Vamps are evil, aren't they? What is his ulterior motive? He has to have one...Ettienne d'Alencon was turned by his sister, by accident. She had been turned by her husband.. after he had gone Vamp on her. But Ettienne, Lisette and Richert (From Predatory) have stood together for over two hundred years. No regrets from Richert or Ettienne.. they have fought the good fight. Now that Richert had fallen for the ever loverly Jenna.. Ettienne has moments when he misses his twin. But he has a job to do and hope.. if Richert can find love, maybe Ettienne can as well, eventually. Honestly he didn't mean today.. But when Ettienne watches a silly, drunk, coed meandering home he is at first amused then astounded when he discovers it was all an act to attract unsuspecting Vampires. Amazed that she not only battles them but wins Ettienne can not help but be attracted. When suddenly Krysta finds herself fighting side by side with a Vamp and starts hearing terms like Immortal and second.. she has questions.. lots of them. Of course Ettienne is a bit more cautious and slow with the answers.. He has an entire race of people to protect after all. What he doesn't do is let Chris Reordon (leader of the human network) know about her and protects her as best he can. Both from the Vamps and those who would question what she knows... But things are just getting started. Krysta is drawn into the battle between the Immortals and the shady side of the government.. those that want to capture and examine (read torture) these strange beings.. and now Krysta finds herself protecting Ettienne.. Together these two navigate the shaking path between immortal and human. While discovering that they can be more to each other.. They can have it all.. if the battle doesn't kill them (especially Krysta) first. Now Krysta and her brother have a choice to make, human or immortal? Where can they serve mankind best? Hmmmm, the choices.But the immortals are not just battling humans and vamps, there is a trader amongst them.. or is there? No one is sure event Seth has an opinion.. is he right? We also see what is going on in Ami and Marcus' life and things are getting interesting for these two.. This is a fantastic series.. I highly recommend it! And Ms Duvall just keeps getting better and better! I hope to be seeing the oh so sexy Immortals for years to come!! ShauniThis review is based on the ARC of Darkness Rises provided by netgalley and is scheduled to be released on October 1, 2013

This book started out really good & I couldn't put to down. I'm not quite sure what happened, but somewhere in the 40% through it became really really cheesy. A girl and her brother live together in a hobble of a house while he goes to medical school & she hunts vampires. They also have menial jobs & they barely get by. I wasn't quite sure why they were so poor & living in a shack. I thought maybe their parents died, but low and behold they aren't. They are alive & pretty much middle class people. While the sister is hunting she runs into Etienne, who is an immortal (totally different) and both her & her brother end up moving into the world of immortals & ya! it was cool to that point!The banter in the beginning was really good, but then it turned into cheesy one-liners all about wanting to have sex wherever they were. Based on the plot & the wanna be suspenseful nature… this just made it almost corny… At some points the book advanced two weeks skipping any drama in between… which then made a contradiction in the ability to notice another character's pregnancy. Character descriptions were lacking & I just envisioned blurry heads with muscular bodies. Thank God I know what North Carolina looks like, otherwise I may have pictured New York… I did like the book. It was just the cheesy nature of the story that made me skip sections! I also liked the surrounding characters better than the two main characters & I now want to read the other books in the series, but I'm not going to rush out now and get them.All in all it was an entertaining story, there was just too much contradiction & bad lines.

"Abruptly, the song "Squirrels in My Pants" from Phineas and Ferb filled the air." Way to ruin a moment, if you ask me.Page turner: YESPart in a seriesKrysta met Étienne while she was battling vampires thinking he is one of them, what with him with fangs and the glowing eyes. Although, his aura is a swirl of white mixed in with violet, and the vampires with a manic of orange. Étienne was, for all intents and purposes, savings Kryta's ass.The story, from the start, captured me all along. Finally, I will be able to know and feel how it is for the telepath's mind. But what got Étienne's attention was because he can't get a read on Krysta, unless of course she goes 'broadcasting'.What I enjoyed and love the most is that Krysta is already a bad ass. She knows her way around a shoto sword and she can hold her own in a fight. Also, I get a glimpse of other characters that I love. And yeah, the humor is there that what makes it fun. I've kind of like Sheldon but I didn't expect Cam, Étienne's Second, would also be a total cracked. I love their North Carolina family and with enemies to battle, it makes me agitate and fear for them.Bloodlust satisfied, this made a great fix for me. All in all, it was a great read.

A hidden enemy resurrecting bad memories from the past and bent on capturing the Immortals darkens this otherwise comically sweet and sexy story.I loved this series from the start, with its endearing characters and smart plot. The family of Immortals, gifted ones and seconds keeps getting bigger, stronger and funnier. They range from somewhat clueless to antisocial, and everything good in between, even the vampire "bad guys" get to their humor in. This book about tender, sweet and old-fashioned Etienne and strong, fearless, beautiful Krysta is full of good banter and flirty teasing. It does a good job of keeping us up to date with the ins and outs of their world and covers previous and ongoing plotlines. I think the only concern I had with Darkness Rises is that it enclosed a lot of material, but didn't delve that much in the main character's realationship."I feel pretty! Oh so pretty! I feel pretty and witty and gaaaay!"Just so you know, that was sexy, hot Etienne's ring tone.* Review written way back when! October, 2013 *For more of my reviews and those of my best book buds, and updates Visit our blogStalk us on FaceBookAs well as Twitter

The plot is getting thicker!!! totally hooked.I really liked it, minus some few things here and there....The chemistry between Krysta and Etienne was really cool, but the steam factor was turned down a bit in this book. I would have liked for them to take the relationship deeper and also more of them together, felt the book was a little rushed at times. I say the plot thickens.... yeah.... what is it with that comment about why are there to many "gifted ones" in the area... and Seth and Zach.. what are they? my theory: gods or angels, but I am more inclined to the god angle.... These books keep reminding me sometimes of the Dark Hunters... Loved the jokes, loved the banter, loved the happy family!Can't wait for the next book, which will hopefuly be about Lissette and Zach... woooo whooooooI just don't want to wait a whole frakin year!!!

I received and ARC of this book as winner of Dianne's blog contest.Dianne Duvall hit it out of the park again. I absolutely loved this book. I have to say Etienne and Krysta have jumped to my second favorite Immortal Guardians couple. This book not only had their love story but included several scenes with previous characters. Some secrets come to light while new ones surface and creating more questions for the Immortals future. It was captivating and action packed. Kept you guessing. Definitely get 5 stars from me.

Good story line! I like Krysta and Etienne together! I don't like Seth's temper and what he did to Zach! Now on to Zach's story!

*Book source ~ Many thanks to Kensington for providing a review copy in exchange for an honest review.Étienne d'Alençon is an Immortal Guardian. Tasked with protecting humans from vampires, he and his siblings, along with other Immortal Guardians, hunt each night, but no matter how many vampires they take out more seem to fill the void. One night while on patrol Étienne comes across Krysta Linz, a human vampire hunter. Even though she has some serious mad fighting skillz he decides to follow her each evening and protect her. Until one evening when she finds herself seriously outnumbered by vampires and things spiral out of control. The threat that was thought to be eliminated is still going strong and the Immortal Guardians are once more fighting more than vampires.I wondered what would happen when the big baddies were put down, what or who would the Immortal Guardians deal with now? Vampires aren't much of a threat to them though they are annoying to keep in check, preventing them from hurting or killing humans. Well, I didn't need to worry because this book reveals something else is going on. And it's a doozy.I love, love, love this series. Every book is a smorgasbord of everything I like about books all under one cover. The paranormal elements, fast action, kicking ass, humor, hot nommy guys, excellent dialogue, fantastic characters, bad baddies, steamy scenes and I mentioned the hot nommy guys, right? I know when I pick up an Immortal Guardians story I won't be able to put it down.I have to admit that part of my delight in this book as well as the others in this series is the fact that the setting is right down the road from where I live. I love seeing familiar cities and landmarks mentioned since I don't think I've read a book yet that has a setting so close to home. In addition, Étienne turned about to be more laid back than the other Guardians I've met so far, so it was a nice change of pace. When the French siblings were first introduced in the series I wasn't sure if I would like them, but after Richart's & Étienne's stories were told they have earned a place in my heart. Krysta is a great character, too. Strong, stubborn and very loyal to those she loves. She took a horrible experience and turned it into a crusade that luckily didn't get her killed. I also love meeting more humans who are gifted ones and learning what type of gift they have. There are a few more Immortal Guardians mentioned in this book as well as their Seconds, Ami's secrets are revealed to the Guardians and then there's Zach. Oh, boy. I'm seriously hoping his story is next though Seth's story would be super awesome. I can't wait to read more about the Immortal Guardians and I'm very much looking forward to Night Unbound due out September 2, 2014.

My Review:Overall.... 4.25Performance... 4.5Story.... 4.0It's been a while since I dropped into the Immortal Guardian world and I had forgotten just how much I love it. This was a great book to get me back into it.Sean and Krysta made this book for me. I loved the siblings who have been fighting vampires together with no real training or experience for 6 years. And they really have been working blind. They have no idea about the Immortals or Seconds although Krysta has heard rumblings from the vampires as she battles them. Both Krysta and Sean are "gifted ones"...they have other powers. For Krysta, she can see auras and with vampires that means she can see their aura shift in battle telling her which way they are going to move before they attack. Sean is a healer. He's the one who puts Krysta back together after a night of hunting. They believe in what they are doing although it's running them ragged to hunt on top of med school for Sean and jobs for both of them. Etienne runs into Krysta during a battle and is shocked at how well she handles herself. But she's still human and therefore vulnerable so he begins to follow her at night to "help her out"...something that Krysta doesn't appreciate especially since she thinks he's a vampire too. These books have everything. The romance is always stellar, the paranormal world exciting and interesting, but the group dynamic is perfection. I love the scenes where all the characters in this huge cast are together. The characters have a wide mix of personalities, but they are all quick-witted and the back and forth between them is all so much fun. Whether it's conversations between the various siblings or the Immortals or the humans, they all have a great snarky wit that I just love. Reading these books are fun and listening to them on audio just enhances that. Kirsten Potter is an incredible narrator and she masters ALL the different voices and accents perfectly. This is one of my favorite series to listen to on audio and her talent is a lot of the reason for that.I highly recommend the entire series and definitely this book too. If you can listen to it on audio, I think it's even better, but the books are good and action-filled so I'll tell you right now that you may want a copy of the book too because there will be times when you want the speed of being able to read it yourself because you have to know what happens next. A superb installment to this series.

Armed with her knives and her ability to see auras, the heroine stalks the night for the creatures who stalk vulnerable people. Though she's human and fragile, she risks her life every night in order to kill vampires and protect the people around her. One night, her whole world changes. When she's confronted by a rather large gang of the undead and she thinks she's bitten off more than she can chew, she's saved by the most unlikely of heroes. It's quite evident that he's a vampire himself but even from the start she knows he's something different. He's not evil, that's plain to see but he's also the most gorgeous man she's ever seen. After that night, she realizes that she's being followed-protected-by this man. He tells her that he's an Immortal, one of the good guys and like her, he hunts the vampires nightly but he does it with expert skill and an organization behind him. When they are targeted by mercenaries-humans who kill vampires and immortals alike, the heroine and her brother are brought into the immortals world. Together, the hero and heroine battle through the unsalvageable vampires for the newly turned, hoping to bring them over to the light side. I liked this book but I did find it sort of lacking. I'll start with the positive. First off, I really enjoyed the heroine. She went out every night to kill vampires, knowing that she's mortal, that she'll most likely be hurt and in fact is injured after every encounter. But she keeps at it because she believes what she's doing is the right thing. Also, she was realistic and logical. When it becomes apparent that she's a liability to the hero as she is, she offers to let them turn her so she can be of more use. That's a strong woman in my book. Secondly, I liked the hero because he wasn't a tortured soul in need of saving. He was kind and funny and very French but far from the moody angsty hero that is usual present in this genre. HOWEVER. The very fact that the hero and heroine were good natured people, very level and hunky dorey made for a rather slow paced and frustratingly monotone story line. I wanted a bit more angst. It was just all too 'easy' more my taste. I wanted more conflict, more passion, just...more. As I said, despite this I liked this story and the characters but I wasn't in love.

This time we have Étienne's HEA, so there is more action for our favorites immortals when old enemies come back, secrets are disclosed and there is lots of love in the air.BUT to tell the truth I did not enjoy this book AS MUCH as the previous installment of this series. At this point I think d'Alencon twinsgot royally screw, let me explain that: I was so excited to read about Richart because the need to know who was his mystery lady was KILLING me and I REALLY wanted to know how and why Sheldon, someone so obviously green, got to be Richart's Second or a Second at all. Well, the romance in this story was not that great and I never got an answer to my question, but I was forgiving because it was a novella.Étienne's story is very similar to Richart's at some points, too similar for my peace of mind, with a healer studying medicine similar... Étienne and Krysta's romance is truly dull and forced, as many other stuff in the story, actually. He's kind of cheese (and a character that never really interested me) and she's boring and selfish (the things she puts her brother through just so she could continue with her vendetta really sucks!). The fact she´s some kind of she-warrior did not improved her character to my eyes. I guess she was supposed to be new but it just didn't work for me.And at this point the paragraphs explaining the differences between the vampires and immortals, and some of the character's back stories are getting on my nerves already. They seem copy-pasted from previous books! Those are the only down points with the book, however, the rest is just pure Immortal Guardians awesomeness. Bomb-tastic action scenes, fun with previous heroes and heroines (Bastien!!), and a tiny "introductions" of the future ones. There is a juicy lot about Seth's identity, his powers, his secrets and worries that turn out to be quite a lot lately.

Krysta is a rare human female. She knows that she is different and she uses her differences to fight an evil that most believe to be myth. She has vowed to eradicate all vampires from the face of the earth. It's a solid plan. It's a plan that she has stuck to for quite a few years. The sexy vampire who helps her slay the blood suckers is a game changer she was not prepared for. Etienne is not sure what to make of the human who fights vamps nearly as well as an Immortal. His interest is piqued and he just has to know more about her. That interest leads to time together and from there it does not take long for the sparks to start flying. One of my favorite things about Darkness Rises was the manner in which Etienne and Krysta's romance progressed. There was attraction and doubts and so many what if's, but they had found something that worked solely for them and they were content with it. The mortal and immortal woes were there, but just a little nagging presence in the background for them. They are both happy slaying vampires together. I loved this. All of Dianne's Immortal Guardians books are easily loved though. That is just part of the magic in this world that she has created. Duvall's Immortal Guardians series is a series that needs to be read in order. While one of their threats was eliminated in Phantom Shadows there are still characters and relationships that have been developed in the previous books that makes reading them in order a necessity. Fans of Dianne's are treated to plenty of page time with the heroes and heroines of the past books. I am also pretty sure there was page time give to a future couple, if not the next couple. Roland and Bastien are full of shocking surprises. It seems the women in their lives have made some very interesting changes.